Infrastructure development remains high on our municipal agenda in the upcoming financial year, we are also committed to uplifting the livelihood of our youths through supporting various sporting codes, small businesses and youth led organizations. We want to ensure that all of our people are empowered enough to become financially independent. In 2023 we will ensure that most of our people find employment through attracting various corporations to come forth and create job opportunities. We will continue awarding our Matric High Achievers, Schools, teachers and students alike. We call upon our people to keep abreast with everything that our municipality has to offer, protect all infrastructure and refrain from associating with groups that seek to undermine the good work put in. Let us all work together to move Mandeni forward. Lets join forces and advance the dream of making Mandeni better.
"I am Mandeni, we just love Mandeni"
it is not born from the brilliant campaign that is run by Municipal communications Unit, since indeed I love Mandeni. I was born and bred eMacambini, Ward 08, have studied and trained as karate in Mandeni. I have cut my political teeth in Mandeni as an activist, my family and I have been calling Mandeni a home for generations, it is for this reason now that I am a Mayor, I have no choice but to serve them well, when I speak of the plight and dreams of people Mandeni, I do not rely on the website
www.mandeni.gov.za
, I also do not rely on hearsay because I share their life experiences. I don't make claim to have all the answers to the challenges faced by Mandeni community, but making Mandeni a sustainable town is indeed a personal assignment since I am the product of this soil in every sense of the word. As I assume this responsibility of being the Mayor, I call upon all officials to roll up their sleeves and speed up service delivery to our people and ensure retain investors in the CBD and Isithebe Industrial Park.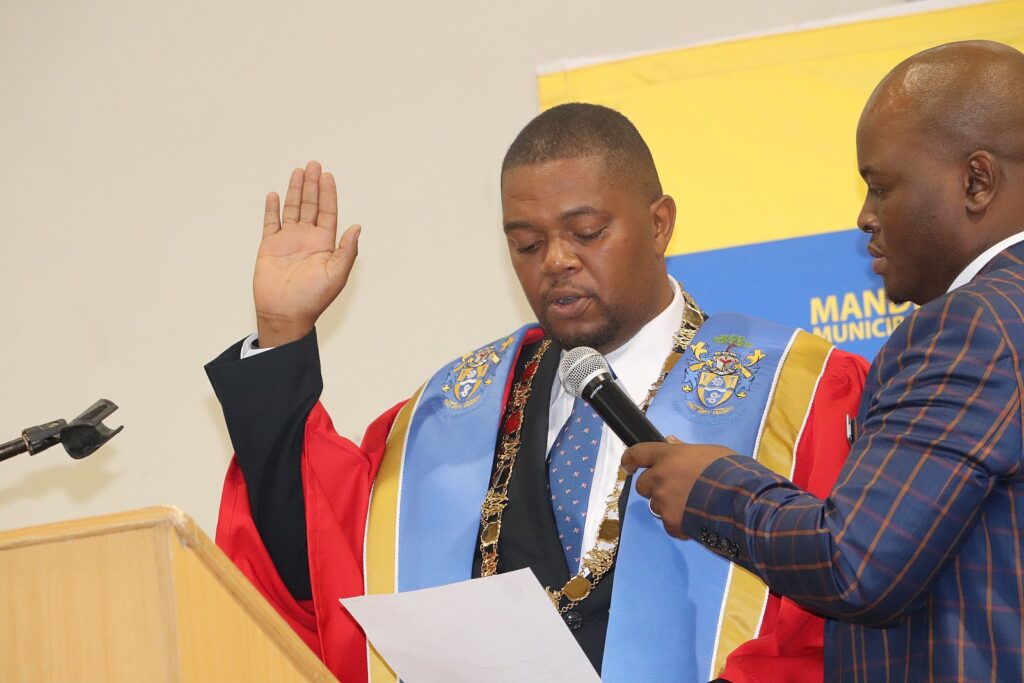 We will spend the first 30 days engaging stakeholders on the possible interventions program and continue with Provincial Programs and priorities to save 'Isithebe Industrial Park'.
I have instructed the Accounting officer to ensure that all service level agreements are enforced and that the services of any service provider who fails to deliver quality work must be terminated.
It is vital that while we hold our external partners to high standards, we must also get our house in order by paying service providers invoices within 30 days.
60 percent of our population is made up by the youth, this is a very significant number, it is for this and many other reasons that the Youth Development is and should be of paramount importance. If we are indeed serious about our vision let us all invest and develop our young people to be skilled and versatile. Unlocking economic opportunities for our young people and create a conducive environment to grow holistically should be our daily focus. Many young people are unemployed in various ways, as the Municipality we must be seen as addressing their core issues. We will be engaging uMfolozi Tvet Collage to provide and align their programmes with the needs of our industry and strengthen their relationship with the industry captains so that it will be easy to provide learnerships and other exit opportunities for our young people #Sizokhawuleza
Nothing for Mahhala, paying for rates and services will go massive road in improving the lives of our residents. We must put most of our effort in reducing the debt owed by our rate payers. We are extending the 60/40 campaign to our ratepayers in order to ensure their benefit from the campaign. It is a great opportunity for all our debtors to be able to up to date with your rates and have a non-owing propriety. You also showing that you are indeed a responsible citizen that pays for its rates. #SIzokhawuleza
It is important that the Council is able to continue focusing on Back to Basics Principles to enhance efficiency and sustainable service delivery, promote sound financial management through proper accountability and transparency. We shall continuously enhance our Communication strategies with all stakeholders and ensure continuous engagement through effective Public Participation of the Community and various stakeholders through various means of communication in enhancing service delivery and we shall further accept any inputs and constructive criticism and work together with all stakeholders in fighting any elements of fraud and corruption that may be detected in the process in all efforts of taking Mandeni.
I pen down – let me join millions of South Africans in a fight against Gender Based Violence, it is indeed unfortunate that women and children are not safe in their own country, they are scared of their fathers and brothers who have now become animals among them. We are calling on all men to stand up and protect their daughters, sisters, mothers and all women against Gender Based Violence. If you respect a woman, you respect a nation. During the testing time where our beloved country is faced by a number of challenges, where there is increase on reported cases on killings of our beloved women, our mothers, sisters and children; human trafficking, increase on drug dealings and abuse, we are committed in fighting violence against women and children.
Sekwanele : Let us Stop It
CLLR.TP MDLALOSE, THE MAYOR