CHAMPIONS CROWNED AT THE 2022 MANDENI MAYORAL CUP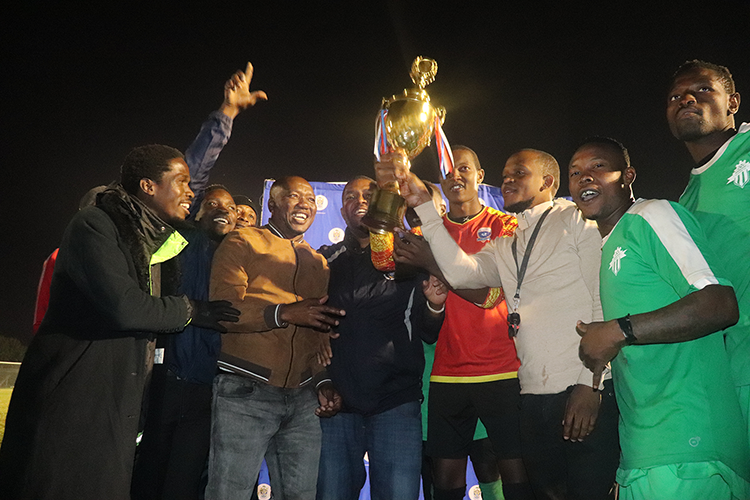 On 16 June 2022, Mandeni Local Municipality, held the final leg of the Mayoral Cup, the two-days programme kicked off on Sunday, 12 June 2022 with the hosting of a Karate Tournament. Day Two of the event, was on June 16 and it saw soccer, netball and ladies soccer clubs face each other as they battled for top honours.
As part of the day's proceedings, there was a fun run, which was aimed at promoting healthy living among individuals. Herewith are the overall winners in the fun run.
8KM-MALES, Mthembu Wiseman (1), Sibiya Musa (2), Mthiyane Sandile (3), 5KM-MALES, Mtshali Khethukuthula (1), Mhlongo Luyanda (2), Nkanini Mfanafuthi (3), 8KM-FEMALE, Mthembu Nontando (1), Lukhele Gugu (2), 5KM- FEMALES, Mthembu Minenhle (1), Mpanza Thandiswa (2), Mthethwa Ayanda (3)
Soon after the fun run, Soccer took centre stage, in the ladies soccer category, Sundumbili Ladies beat Rebels 2-0 and took the crown of 2022 Mayoral Cup Ladies Soccer Champions. The men's Super League Final saw Nembe Citizens beating Mandeni Arsenal 5-4 on penalties after the match had ended 1-1 during regulation time. Citizens were crowned 2022 Mayoral Cup Super League Champions.
Mandeni Super League final score, Nembe Citizens 5-4 Mandeni Arsenal on penalties after the match ended 1-1. The biggest winners of the day were, Mandeni Citizens who were crowned the 2022 Mayoral Cup SAB Regional League Champions after beating Real Sweepers by 1 goal to nil.
Netball was also part of the day's agenda, on the Club Development Category, Unique scooped first placed followed by Zebraz, eNembe Girls and Vutha. The Netball Senior's competition was won by Mighty Angels with Unique and Zamani coming into second and third place respectively.
Speaking at the awarding and closing ceremony, His Worship the Mayor, Cllr. Thabani Mdlalose lauded all participants for their dedication in their craft and urged them to continue plying their trade in the various sporting codes.
"We are proud of the work that you put in today, your athleticism was put to the test and you all passed, continue striving for excellence, as the Municipality and this Council, we are always willing to help all year round. Our offices are open not only for sports related matters but for everything in general" said Mdlalose.